---
My Zen12 Review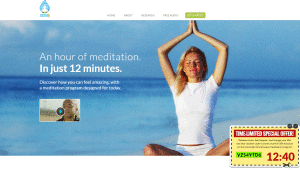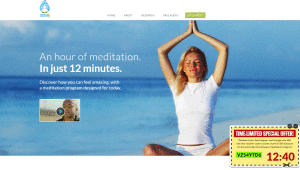 Welcome to my Zen12 review.
Some months ago, after a recommendation from a friend, I began working through the Zen 12 meditation program.
It's a set of audio mp3 files that use a special sound technique to speed up the benefits that regular meditation gives.
This is my Zen12 Review and here's my summary of what the program is and how I'm finding it
This Zen12 review in a nutshell (in case you're in a rush):
Product:                      Zen12 Meditation Program
What is it:                   48 Brainwave Entrainment Audio MP3s
How many levels:     12 levels lasting 12 months
Pro's:                           Only takes 12 minutes per day, Quality sound files,   4 different backgrounds at each level to avoid boredom, 1 year program takes you into deeper meditation each month, try level 1 for free, full 1 year satisfaction guarantee
Cons:                             Later levels do last longer
Price:                              $37 (after discount voucher)
Where to buy it: Click HERE to try the Zen 12 Meditation Program Level 1 for Free (Email opt-in required)
or Click Here to find out more about the Zen 12 Meditation Program
(If you just visit the page, then want the free trial, click free audio in the top right hand corner of the page)
What is the Zen 12 Meditation Program and why do you need it?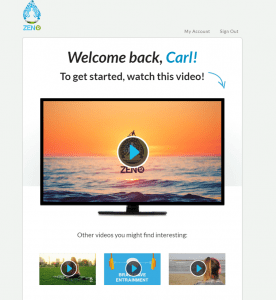 It is generally well understood that stress and worry is a massive problem today.
We worry about everything. We worry about how we look, our job performance, our careers, our relationships, our finances and so on.
We flood our bodies with dangerous chemicals intended to give us a boost for escape, but we don't escape. We just move on to another worry, another stressor.
We live fast, rarely taking time to stop and think about what is important.
Meditation is the antidote to stress and is proven to help us release stress and anxiety practically from the first time we try it.
As you do more you will find that your ability to overcome stress and remain relaxed will increase. You will cope better with things that may have stressed you before, feeling much calmer and more in control of your thoughts. You will probably feel happier, more optimistic, more in control of your thoughts and emotions and a greater inner peace.
If you meditate regularly you will access deeper, more useful brain states. Mental benefits include thinking more creatively, having more insights into things and empathy for others and your thinking becoming more balanced. Health benefits include improvements in digestive problems, stress related symptoms, more energy and you may even start to look younger.
With all these benfits you might wonder why everybody doesn't meditate. It's partly because many people hold certain beliefs about meditation (see my 7 meditation myths challenged article here) and partly because people don't want to find the time.
But it can take years of regular daily meditation to really master the process.
That's where the Zen12 Meditation Program comes in.
Zen12 is an audio meditation program that uses brainwave entrainment to quickly guide your mind into an ideal state for meditation. In particular, Zen12 uses superior isochronic tones, computer generated fast audio pulses. The tones gently guide your mind into a useful brainwave state quickly and effectively.
That's how Zen12 can offer an hour's worth of meditation in 12 minutes.  It will help you get started with a deep, regular meditative practice in twelve minutes per day. You'll be guided through simple exercises that will let you relax, focus and enjoy the present moment.
For the benefits meditation brings, surely it's worth finding 12 minutes four or five times a week?
My Zen12 review will help you decide if it's worth your time and effort to try it.
---
Click Here to find out more about the Zen 12 Meditation Program and it's benefits 
---
How long does Zen12 take to complete?
Zen12 comes in 12 levels with each level designed to be listened to for a month before moving on to the next level.
The levels are generally in two stages. The first will gently guide your brain down to the desired frequency level and bring you out of it.
As you become used to the state, the next level, one month later, takes you that level quicker and therefore keeps you there longer as the session is the same 12 minutes.
Each level, therefore builds on the one before and strengthens your meditation practice, getting your mind used to accessing ever deeper beneficial brainwave states.
See my review of brainwave frequencies and how they affect your mood here.
The excellent 30 page User Manual explains the goal of each level, how to use it, the science and much more.
The User Manual also explains that some of the later levels – after level 7 – require more than 12 minutes in order for you to get the desired benefit. These increase slightly each time with level 12 being a 20 minute session.
What is in each Zen12 Meditation Program level?
Each level contains 1 instructional mp3 track and four other tracks.
The four tracks all have the same background entrainment tones but come in four 'flavours' as each person may like to meditate in slightly different ways. You can always use the same flavour or mix them up according to your mood and circumstances.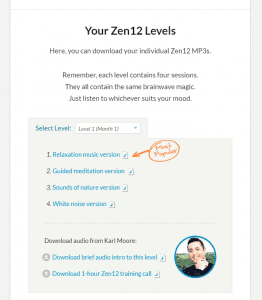 Guided – This track includes a guided relaxation script which helps your mind to focus on the meditation. This makes it less likely your mind will wander back to today's challenges. The scripts include a walk along a beach and a trip through a forest, along with a suitable relaxing soundscape.
Relaxing music – This track has a background of relaxing music, if you just want to close your eyes and relax to the meditation. Each level uses different music so you don't become bored with it.
Sounds of Nature – This track has a background of nature sounds. Each level uses different natural sounds and include ambient night sounds and a passing thunderstorm.
White Noise – This track has a background of white noise and is particularly useful if you want/have to to do your meditation in a fairly noisy environment. The white noise helps block out background noise while still delivering the entrainment.
You don't need to do anything else, like sit in the lotus position or chant a mantra. Just press play and relax.
You get lifetime support so if you are unsure about any track or level, just shoot them an email. The support is excellent.
Zen 12 Review – What does it cost and is there a moneyback guarantee?
There are three purchase options but the one to go for is the Premium and I will explain why.
There is also a beginner pack covering just the first 6 levels and an advanced pack covering just the last 6 levels but neither of these can be discounted by the pop-up discount that appears after a few minutes on the page.
The pop-up window offers a discount which reduces the £87 Premium cost to $37. Just remember to put it in the code box on the purchase page.
The Premium package gives you all 12 levels, a few bonus items and access to a video seminar explaining the program.
There is a money back guarantee and it is for a MASSIVE 12 months. That's right, you get a whole year to test drive the product and if you don't like it you can get a refund. I find this level of product commitment very encouraging.
Is Zen12 worth it ? – Bottom line and my personal experience
Bottom line, this product makes sense and is hard to beat.
The greatest benefit of the Zen12 program is that it makes a difference in your life starting from day one. You only need twelve minutes each day and you will feel better, sleep better, have more energy and enjoy life more.
The Zen12 Meditation Program differs from other meditation programs in that it has been designed for busy people who don't have time for long meditations, and need something more convenient that can be practiced in just 12 minutes a day.
This makes it ideal for beginners who want to set aside time for their practice without having to find an hour each day to do so.
The Zen12 Meditation Program helps you build new habits so that meditating becomes part of your daily routine. It also teaches you the basics of meditation and gives you tools to help with stress management and mindfulness in your everyday life.
$37 dollars for a whole years quality support for your meditation is an amazing bargain.
If you have a question, send them an email and their support team will respond promptly to help you.
You van try level 1 for free, and if you go on to purchase the product, a whole year to see if you like it.
At the time of writing I'm on level 4 and try to listen to a track most days. It's quite easy to find 12 minutes if you really want to do it. I listen first thing in the morning or last thing at night (trying not to fall asleep as it is so relaxing!) Sometimes I go out to a park at lunchtime and listen, just enjoying the environment.
I find the sessions really relaxing and always feel good afterwards. According to the user manual Level 4 takes me quickly down to 9.5Hz, which is getting towards the low end of Alpha. At that level I am relaxed and slightly drowsy, in a slight trance.
The two halves of my brain are naturally starting to synchronise and work together and I will start to be more creative, imaginative and intuitive. These benefits continue long after the session ends. I'm really interested to see how the full 12 months pan out and how much I will be improved at the end.
I still use Zen12 every day and I fully recommend Zen12.
Click HERE to try Zen 12 Level 1 for Free (Email opt-in required)
Click Here to find out more about Zen 12
(If you just visit the page, then want the free trial, click free audio in the top right hand corner of the page)
---
Zen12 meditation program FAQs
I have updated this Zen 12 review to answer some Zen12 frequently asked questions on the site, and the internet.
If you have any other questions about zen12, leave a comment and I'll get back to you.
Is there a Zen12 meditation program free download?
Yes, absolutely. If you are interested in Zen12 but are a little unsure, you can try out the first level for free.
Click HERE to try Zen 12 Level 1 for Free (Email opt-in required)
Is there a Zen12 meditation audio download ?
Yes, the entire product is a digital product and there is no physical product.
You can download the zen12 meditation audio files to your computer and then copy them to the device you want to listen to them on.
Once you have decided to buy the product, you can be listening to it in minutes.
Is there a Zen12 guided meditation ?
Yes. Each of the 12 levels comes in four different flavours to suit your mood.
There is a relaxing music version, a guided meditation version, a sounds of nature version and a white noise version.
Each version has the same entrainment tones for that level but with a different background depending on how you want to use them.
You may want to listen to music one day, and be guided into meditation by a soothing voice another day. Whichever track you listen to you will still be getting the benefits.
Can you get a Zen12 discount coupon ?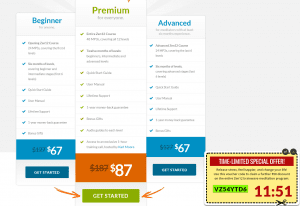 Yes! and my Zen12 review will help you save money.
There are three options of pricing for zen12 and the producer highlights the most popular.
But as you will see in the picture, there is a pop up zen 12 coupon code that offers $50 off the product and reduces it to just $37.
You should use that zen12 coupon to get the best price! If it disappears before you get the chance to make a note of it, try refreshing the screen, or leaving the website and coming back. Or, I think it's the same code for everybody, so make a note of it from my screenshot!
What's in the Zen12 members area ?
Just use the Zen12 member login details supplied after your purchase and you will discover everything you need to get going with zen 12.
There is an introductory video and links to each of the four audio versions for each of the 12 levels.
There is a brief introduction to each level explaining how to use it and what it does, and a link to a 1 hour training video.
You will also find links to the bonus personal development books and audios.
Check out the images in the Zen12 review to see.
Is the Zen12 meditation program safe to use ?
Brainwave entrainment guides your brain into states that occur naturally from time to time anyway. So it is generally safe to use.
However, certain people should NOT listen to brainwave entrainment and you should also read the guidelines issued by the manufacturer of the brainwave entrainment audio file.
Read my article here for more information on the dangers of using binaural beats.
How should I consider Zen 12 vs holosync ?
Personally, I haven't tried holosync so I can't make any comments about it based on my personal use.
However, I have researched it when I was considering using a program. There's no doubt it is a well considered product. However, it seems really expensive. The first level alone – Awakening Prologue – currently costs $111 for the download version only.
I've also read that the sessions are 45 minutes and 90 minutes long, which is difficult for most people to find.
From my research, I think Holosync is better suited to an intemediate level meditator.
For people who are new to meditation, or just want to try it out, or who don't have a lot of time, Zen12 ticks all the boxes.
Click here to find out more about Zen12.
Is there a Zen 12 video ?
Yes, there is. Some people prefer to take in information via video then reading.
Click here to see the Zen12 meditation program video information.
---
Thanks for reading my Zen12 review.  I hope you found it useful.
If you did, please consider leaving a comment.  I'd live to know what you thought.