Cheap Meditation chair introduction
You will find that a cheap meditation chair will boost your meditation practice no end.
This is because it can be very challenging to find the right sitting position that you can maintain during your meditation session. Without the right position and seating, you may find that your legs can become numb after a while and this can irritate you, interrupting your flow and weakening the strength of your meditation.
I find that the combination of an effective meditation chair and my favourite binaural beats program for meditation, Zen12, will accelerate your meditation practice and, more importantly, the massive benefits you can get from meditation.
Click here to read my Zen12 review – 1 hour of Meditation in 12 minutes!.
You could always buy a meditation cushion but many people find that they need to have their back supported while sitting in the lotus position.
And some people don't find sitting in the lotus position comfortable at all – perhaps they are tall, or don't have flexible joints. These people may prefer to use a meditaion chair instead.
Please note that this article will help anyone looking to buy a meditation chair but any links point to sites in the US.
If you are looking for a cheap meditation chair in the UK, please click here.
Meditation chairs for comfort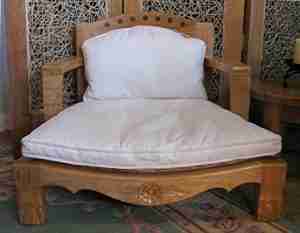 A traditional meditation chair still has four legs and back support, like a regular chair.
The advantage of a meditation chair over a regular dining chair is that it is designed to keep you comfortable when sitting on the floor or near the floor so that it doesn't distract you from your meditation.
It often achieves this by molding to your body to help avoid any cramping muscles and to aid your relaxation.
It does this by using a material called buckwheat hull. This material can conform to your shape yet still provide a firm seat.
This will keep you comfortable but also stop you slouching during your meditation as they are often angled slightly forward.
However, if you intend to buy a cheap meditation chair, it's very unlikely you will get legs.
To save on costs, most cheap meditation chairs are placed directly onto another chair or surface, or can be used on the flor.
When you are thinking about which meditation seat to buy, you need to consider your height and size, whether you need back support to be comfortable, how much comfort you want from the seating and how much you want to pay.
Although this article is about cheap meditation chairs, you may decide that it would be better to pay more to get a better end result ie better meditation.
Portable Meditation Chairs
One really nice benefit of many meditation chairs is that they are lightweight and foldable.
This makes them extremely portable and means that you can easily store them away out of sight when they are not in use.
You can also take them into the garden if you fancy meditating in the outdoors.
You can easily put one in the car and take it to your favourite place of relaxation and enjoy your meditation in nature.
A portable meditation chair can be a fantastic aid to your meditation.
Cheap Meditation Chair Products
Zen Comfort – Memory Foam Meditation Cushion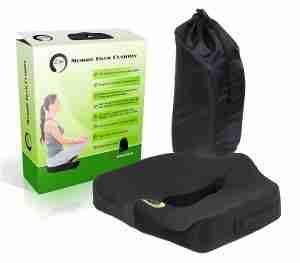 Costing only about $19 this chair certainly meets the cheap meditation chair criteria but doesn't seem to suffer from low quality or a poor user experience.
As it really only a cheap meditation cushion, rather than a chair, it won't give you any back support.
But the great thing about it is that you can use it on any chair – or even a wheelchair – and it will give you the comfort you need during meditation.
I found that out of 100 user reviews, 82 gave it a five star rating and it got a 4.6 out of five overall rating.
Most users were absolutely gushing about how good this cheap meditation cushion was!
Features
Made from a Velour fabric with Non-Slip Bottom
The non-slip cover on the bottom helps ensure the pillow stays stable on the chair
It is designed to improve your posture and cradle your hips
It has a center in the shape of a bowling pin. This provides ventillation to that area and helps stop you getting too hot and unconfortable.
Because of the shape of the cushion, it also gives relief for Prostate, Hemorrhoid, Sciatica, Hip, Lower & Upper Back, Tailbone and Pregnancy Pain
You can use it as a posterior comfort aid for a number of activities, including Meditation, Yoga, Office work, in the car, in the truck or during Air Travel
It can be used to give comfort to wheelchair users.
It even comes with a carry bag but it has a carry handle and a 360 degree zippered cover you can put in the washing machine.
====> Zen comfort cheap meditation chair.
BackJack Meditation chairs
The Backjack meditation chair is a sturdy floor chair you can use on the go almost anywhere. Backjack meditation chairs are made with a heavy cotton duck outer cover you can remove for cleaning. The cover is then stretched over a rigid steel inner frame. To maximise your comfort while using this meditation saeat, the seat is filled with a dense foam.
It is an all purpose chair and can be used in the house or outside, while camping or in the park for example.
There weren't many reviews but it received a user rating of 4.8 out of 5, which is very pleasing. Reviewers who left comments found it a great and comfortable way to sit on the floor, either inside or out.
Click below to see back jack chairs cheap.
===> Backjack cheap meditation chair.
Padma Seat Cheap Meditation Chair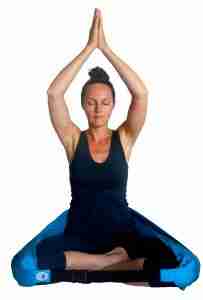 Another extremely affordable meditation chair is the Padma Seat at about $35, although you will also need to get a cushion such as this one
The Padma Seat is a unique belt that provides support for your waist and back by keeping you in a position that won't stress or strain you. This allows you to sit in a crossed legged position comfortably for an extended period of time.
It does this by physically putting your body in a central position which will help avoid stretching or straining your back muscles, avoiding any discomfort from your lower back which may disrupt your meditation session.
As a by-product, use of this seat will strengthen your posterior core and abdominals as you meditate.
Padma Seat can very easily be adjusted to become the most effective way to keep up the Lotus position or a more leisurely cross legged position.
Padma Seat Meditation Chair Features
Help you master the art of sitting properly, balancing the body to aid relaxation.
Can open your energy centers to help balance the body's systems and release blocked energy
Gives spinal support to develop core strength and flexibility
Fully adjustable.
Handmade from strong ultra light parachute silk and webbing.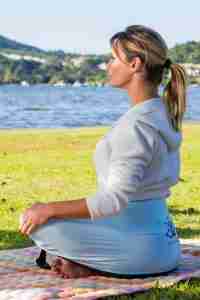 If you decide to buy this affordable meditation chair, the manufacturer gives a very helpful guide to buying the right size for your body size so be sure to check it out.
I found a large number of reviews (65) and the average rating was 4.6 out of 5, a big thumbs up for the seat.
In a lot of cases, the reviewers gave lengthy reviews in which they pretty much raved about how good the product was, and how well it helped you sit up without it being a strain.
There were also a number of useful questions so if you have one, it may be answered here.
===> Padma seat cheap mefitation chair
Beyond these three products, meditation chairs stop being cheap and get decidely more expensive!
If you feel like spending more money, you could look into the
Cheap meditation chairs final thoughts
The sole purpose of the meditation chair is to allow you to feel comfortable during the 20 minutes or so while you meditate. It need not cost a fortune but if you can afford it, you may like to pay more.
But you mustn't lose sight of the fact that better meditation and all the benefits that come from it is the prize you are looking for.
To get a quicker handle on your meditation practice, consider looking into the excellent binaural beats Zen12 audio program. You won't be disappointed.
Click here to read my Zen12 review
I hope you enjoyed my thoughts on cheap meditation chairs and it helped you if you are looking to buy meditation chair.
If you did, leave me a comment and let me know. I'd love to hear from you.